The amazing 360 degree view from inside the hunting blind is something one must experience for themselves to fully appreciate.
It all began with the 360 Series which has become our signature blind and is the design that differentiates us from our competitors. Over the years, we've evolved to include two other box blinds with unique features for a product line-up with options for nearly any hunter.
STAY WARM AND DRY WITH A 360 DEGREE VIEW
With solid wood frame construction and seamless acrylic roof, the 360 Series is built to provide hunters with many seasons of comfortable, weatherproof hunting.
Our windows feature a window raising mechanism – a perfectly silent, one handed operation that is ideal for gun or archery hunting.
The 360 Hunting Blind ships in a kit form with fully complete individual wall panels to allow for quick and easy two-person assembly on-site. See our assembly instructions.
It is made more comfortable and quiet by the carpeted floor and walls, which are included in our Pro Series model.
Our archery window is an upgrade that will increase your vertical viewing space and make it easier to maneuver for the shot.
Metal Stands
Long lasting, durable, and powder coated for many years of maintenance free use.
The Pro Series has everything we include in the Standard series with the addition of making our oversized archery windows an included feature.
We also include heavy duty outdoor carpet which covers the floor and the lower section of each wall up to the bottom of the window sill for an added noise barrier and comfort.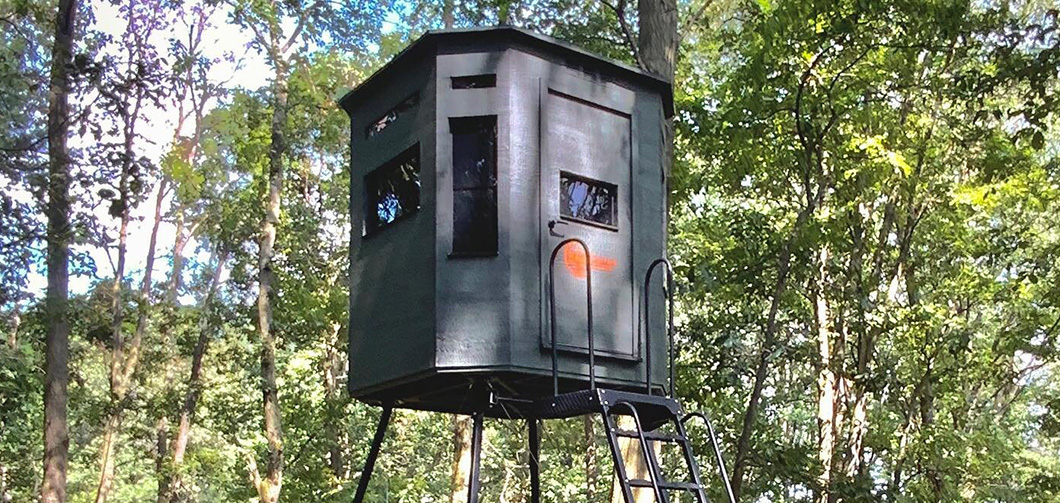 1
Eight 12″x18″ tinted gun/crossbow windows
2
Four 12″x32″ Archery window(s)
3
One 18″x12″ window in door
8
  Insulated floor and walls
Call now for pricing
715-218-2888
Great install on the 360 Blind.  That thing is stealth!
We were in the 360 Blind for about 5 mins and my son shot this eight pointer!  He was behind us and if not for the window configuration we probably wouldn't have gotten a shot
Thank you so much!  We have seen an incredible improvement in our hunting.  Happy Thanksgiving and Merry Christmas!